SkyHelm TITAN
Platform
A Modular and Hyper-responsive cybersecurity platform designed to protect rural electric cooperatives and enhance reliability.
A Modular design capable of preparing for future cyber threats.
Increasing your reliability and cybersecurity, all in one platform, developed by former Cooperative IT Leaders
Addressing the Problem with Electric Cooperative Cybersecurity
Most organizations buy security products hoping to get 3-5yrs of use out of them. In reality, with the ever-changing cyber threat landscape, you are fortunate if you can even get a year out of a security product. To that end, we have designed TITAN to be adaptable, modular, and hyper-responsive in its design, capable of adding/subtracting cyber tools and pivoting to respond to the latest threats. Treating each electric cooperative as an individual, all to fit your cooperatives specific needs.
Other solutions outsource their 24/7 monitoring to non-cooperative-focused organizations. We understand that cooperatives shouldn't be monitored like a hardware store or a bank. Cooperatives exist to serve their members, not themselves, and need a trusted partner organization able to help them meet their objectives.
What is TITAN? Modular and Hyper-responsive
TITAN – A new era of Cybersecurity and Reliability designed for electric cooperatives. TITAN is a modular, hyper-responsive all-in-one cybersecurity platform that allows you to have top-shelf cybersecurity and reliability now, and change your tools as the hackers change theirs. All without having to replace expensive hardware and without disrupting the co-op. This makes TITAN the first-ever hyper-responsive and modular all-in-one cybersecurity and reliability platform specifically designed for Electric Cooperatives. A Modular design capable of preparing for future cyber threats. Developed by former Electric Cooperative IT Leaders.
Network Monitoring
Network Mapping

Network Utilization

Intrusion Prevention

SIEM & SOAR

Endpoint Management

Systems Health

Remote Connection from Anywhere

SCADA Asset Mapping Health

Behavior Analytics

All backed by our 24/7 Security Operations Center
Network Monitoring and Utilization
Network utilization, topology maps, inventory, asset detection, netflow analytics, +more!
Intrusion Prevention and SIEM + SOAR
Using a powerful SIEM, correlate and detect events before it's a problem! Advanced intrusion detection engine.
Titan uses one of the most powerful Intrusion Prevention engines in the world. It is able to do deep packet inspection, protect against zero days, targeted network attacks, and more. Utilizing a sandbox that can simulate interactions, the Titan is able to stop unknown threats (including polymorphic viruses and ransomware) before they can do harm to your cooperative.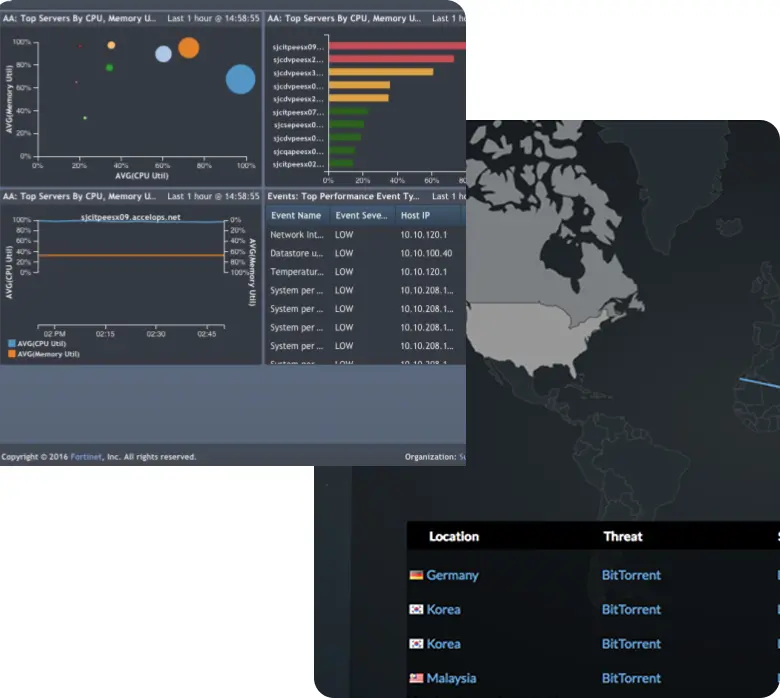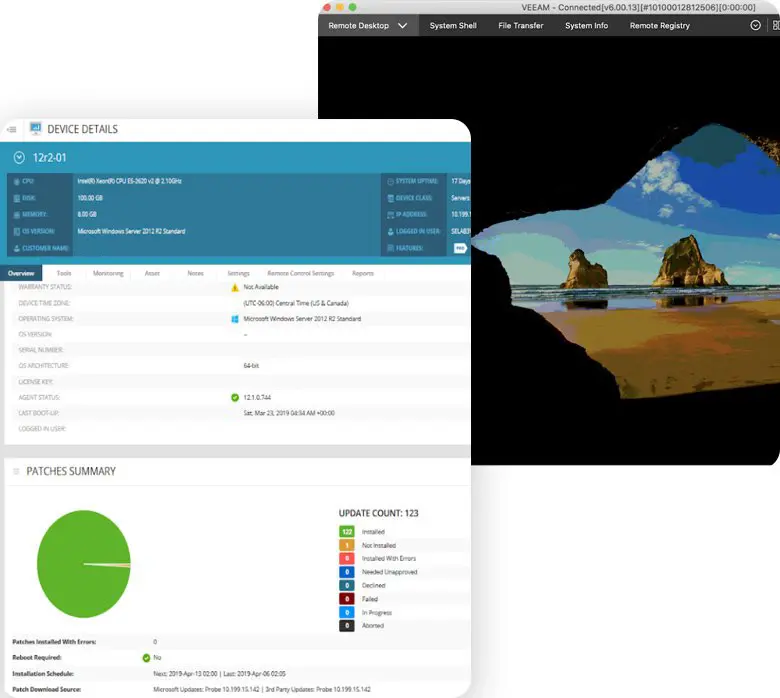 Endpoint Monitoring & Management Tools
PC/Server health & manage software and updates. Monitor the status of patches, updates, control software on systems, send scripts, pull up command prompt, remotely manage files, tune startup tasks, access regedit, access task scheduler.
SCADA Monitoring & Intervention
SCADA asset detection, mapping, and inventorying. Firmware version detection and protocol traffic detection.
A Monitoring tool that allows for us to see firmware versions and status and allows us to see streams of the actual OT traffic (example: Realcom or DNP3 vs sudden FTP). We will all know when new devices are added or go offline and even if those devices change their typical behavior.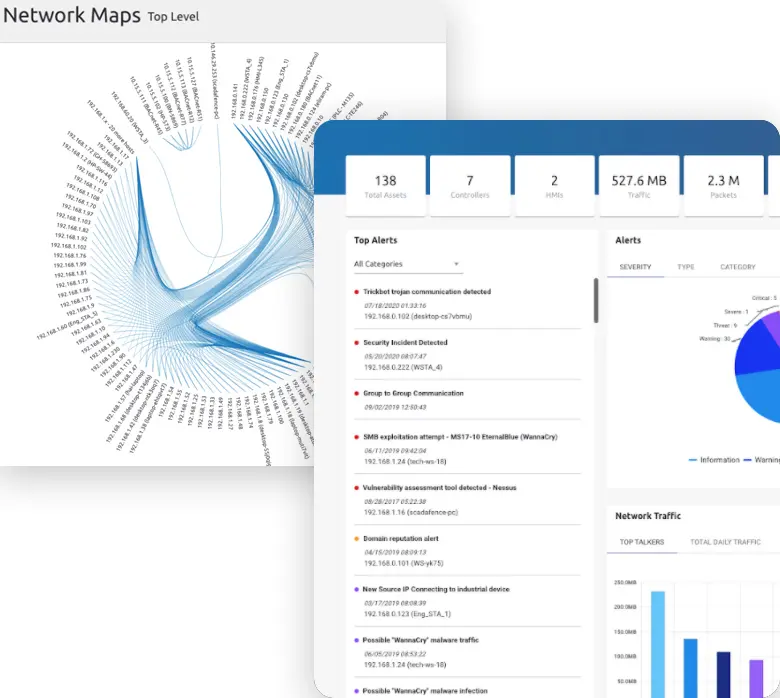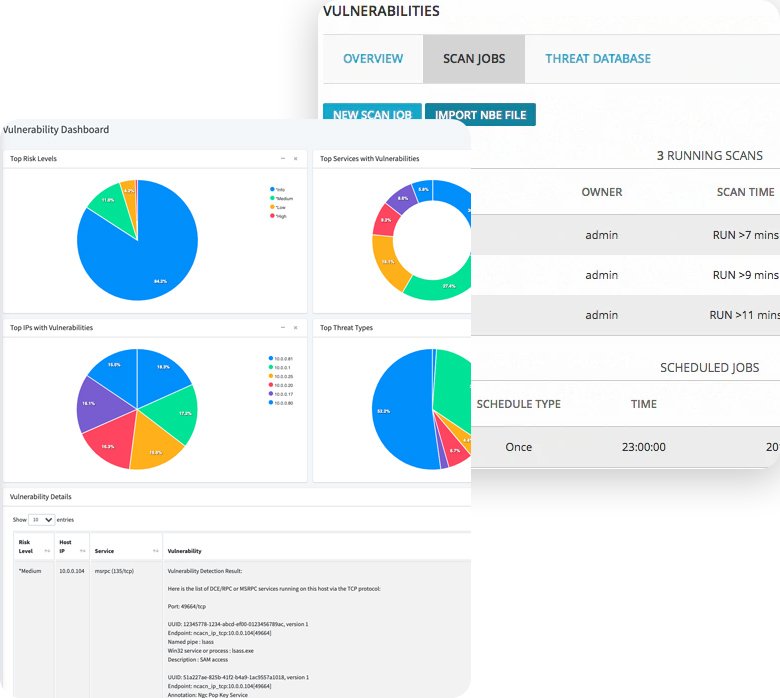 Vulnerability Assessment Scanning
Utilizing a fork of NESSUS providing a trusted and powerful assessment tool. Upon completion of scans, it provides a scored risk report with prioritization feedback and risk management information. This is Always-on and continuous vulnerability scanning.
Stop Wondering If You're Secure.
Our TITAN Dashboard Proves it. Bringing all of the above together SkyHelm has created a single place where you can view everything in your network simultaneously without having to toggle between multiple tools. It provides you with actionable network analytics, important security alerts, and continuously updated vulnerability assessments.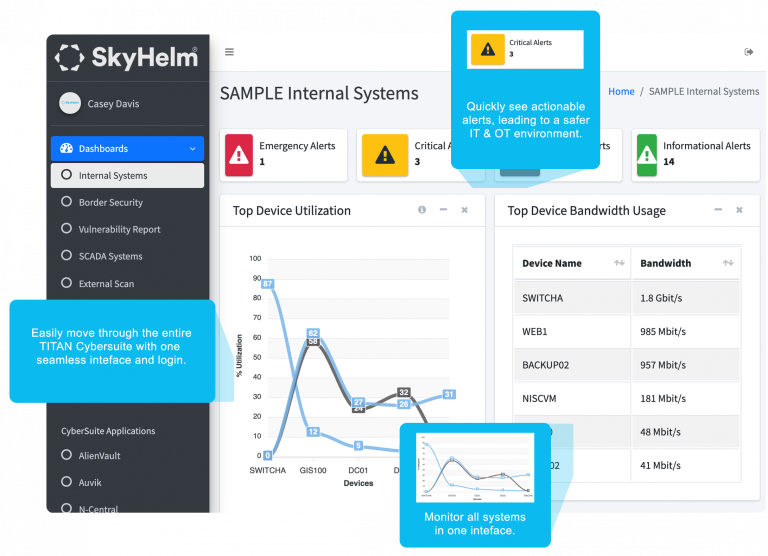 All backed by the 24/7
SkyHelm SOC & SIRT

team.
Call, email or schedule a demo below. Formed from past electric cooperative employees. We care about our mission. Enhance the reliability and security of America's Electric Cooperatives.